Andy's last Grand Slam trophy was at Wimbledon in 2016
British tennis star Andy Murray has said that next week's Australian Open could be the final tournament of his career.
He'd hoped to carry on playing until this year's Wimbledon and stop then, but after struggling to recover from hip surgery he said he may not be able to play through the pain and would have to stop sooner.
Andy has won an amazing 45 titles during his career – here are some of the tennis superstar's top moments…
November 2016 – The best player in the world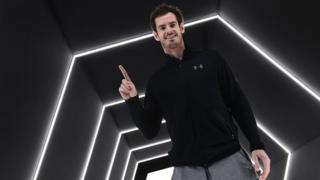 AFP
Andy Murray entered the Paris Masters tournament knowing that if Novak Djokovic did not reach the final, and that he won the tournament, the number one ranking would be his – and that's just what happened!
Andy beat John Isner in the final and became Britain's first singles world number one since computerised rankings were introduced in 1973!
August 2016 – Olympic gold in Rio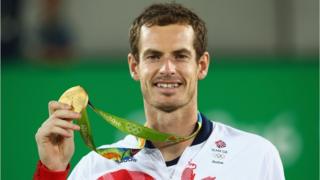 Getty Images
Andy Murray added to Team GB's huge Rio 2016 Olympic medals haul of 27 golds by beating Argentina's Juan Martin del Potro in the men's singles final.
He became the first man ever to win two Olympic singles tennis titles, having bagged his first one at the London 2012 games.
He was also chosen to carry the flag for Great Britain at the Rio 2016 opening ceremony.
July 2016 – Wins Wimbledon for second time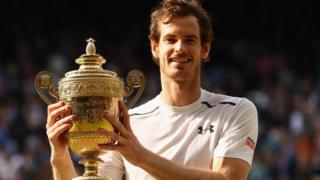 Getty Images
Andy Murray became Wimbledon champion for the second time with a superb performance against Canadian Milos Raonic in the final.
The Scot beat him in straight sets 6-4 7-6 7-6 to repeat his triumph of 2013 and claim a third Grand Slam title.
Murray is the first British man to win multiple Wimbledon singles titles since Fred Perry in 1935.
June 2016 – Queen's Club record win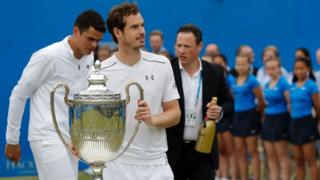 AFP/Getty Images
On Father's Day 2016, Andy Murray beat Canadian Milos Raonic to become the first man to win the Queen's Club title five times.
He said: "I certainly couldn't have asked for a more memorable first Father's Day, winning a trophy and spending time with my family."
Raonic led by a set and 3-0 before Murray became the first player this week to break the Canadian's serve.
The top seed and defending champion went on to win 6-7 (5-7) 6-4 6-3.
November 2015 – Davis Cup success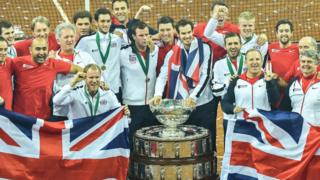 Getty Images
Andy Murray and the rest of the GB team celebrate their Davis cup success
Andy helped Great Britain win the Davis Cup in 2015. It was the first time the team had won since 1936.
Murray beat Belgium's David Goffin to get the decisive point in Ghent, Belgium.
April 2014 – Tears after winning freedom of Stirling
In 2014, Murray showed his sensitive side again when he broke down in tears on receiving the honour of the freedom of the city of Stirling.
December 2013 – Winning Sports Personality of the Year
Murray won the BBC Sports Personality of the Year prize in 2013 following his Wimbledon success earlier that year…
July 2013 – The ultimate triumph? Wimbledon glory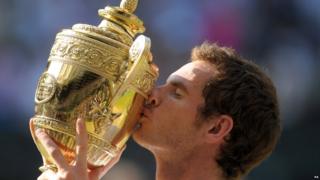 PA
In 2013, Murray again made it to the Wimbledon final.
His opponent this time – the world number one, Novak Djokovic.
But this time Murray was more composed and ready. He beat him in straight sets and ended Britain's 77-year wait for a men's champion.
July 2013 – Oops, sorry, mum!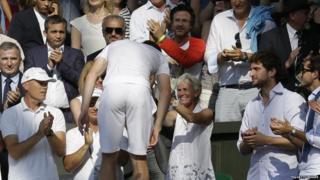 Getty Images
Murray leapt up to his player box to have a good hug with his team after winning Wimbledon.
But who did he forget to hug? His mum!
Luckily, someone reminded him as he was about to climb back down. Deary me, Andy.
December 2012 – Sports Personality… an embarrassing moment
At the 2012 BBC Sports Personality of the Year, we all learned that Andy Murray loves an awkward moment.
He came in third place and accepted his award live from Miami where he'd been training.
Boxing legend Lennox Lewis was on hand to present him with the award, but couldn't hear when to hand the trophy to Andy, who decided to take things into his own hands.
Who doesn't love an awkward moment?
September 2012 – Wins his first Grand Slam at the US Open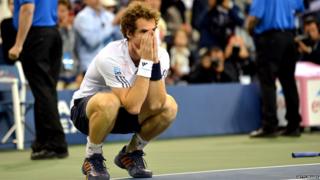 Getty Images
In September 2012, Murray made it to US Open final.
He'd now lost four of his previous Grand Slam finals but managed to fight through against Novak Djokovic in an epic five-set final.
Andy Murray had finally became a Grand Slam champion.
August 2012 – Sweet revenge against Federer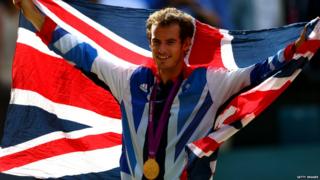 Getty Images
Andy beat Roger Federer in the Olympic final at Wimbledon, winning the gold medal for Team GB.
It was sweet revenge because just a few weeks earlier, Murray lost to Federer in the Wimbledon final.
July 2012 – Wimbledon final – those tears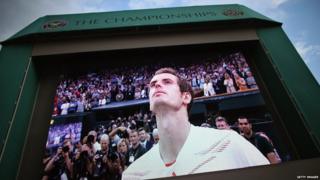 Getty Images
Seven years after his Wimbledon debut, Murray made it to the final.
With the whole of Britain's hopes resting on his shoulders, he was aiming to become the first British man since 1936 to win a major title.
He lost to tennis legend Roger Federer, but gained lots of new fans by having a good cry in his runner-up speech.
June 2011 – Beats his brother Jamie (at spelling)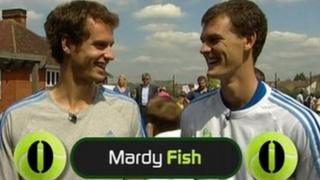 Andy and Jamie Murray's Newsround spelling bee
In 2011, Andy and his brother Jamie took part in a groundbreaking interview on Newsround.
Yes, that's right, we set them a tennis spelling bee challenge.
Watch Andy take on Jamie in Newsround's Wimbledon spelling bee!
June 2005 – Starts his Wimbledon career
In 2005, when baggy T-shirts were all the rage, Murray made his senior debut at Wimbledon and made it to the third round before losing.
He was only 18 years old.
But his run was enough for British tennis fans to know a new talent had arrived.
September 2004 – A star is launched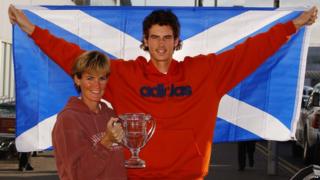 PA
In 2004, Andy Murray launched himself into the limelight with his long hair and a breakthrough win at the Junior US Open.
He turned professional the next year.