Training camp continues across the league, with our first preseason game scheduled for Thursday.
Highlights from around the league, including dancing Chargers, an update on Andrew Luck, snoozing pups in Cleveland and more.

Keenan Allen and the Chargers appear to be in good spirits on Tuesday:
Walking into Day 4 like… #ChargersCamp pic.twitter.com/szocI24YeK

— Los Angeles Chargers (@Chargers) July 31, 2018
Wait for it…. @Keenan13Allen pic.twitter.com/sIvHBYPmuQ

— Los Angeles Chargers (@Chargers) July 28, 2018
🤟🤟🤟🤟@AustinEkeler pic.twitter.com/0cyS2Q5kRj

— Los Angeles Chargers (@Chargers) July 28, 2018
🔥🔥🔥🔥@MikeyQuince @Jenks_26 pic.twitter.com/k1r59F4Glt

— Los Angeles Chargers (@Chargers) July 29, 2018
---
Don't mind if we do…
Sit back, relax, and enjoy the smooth sounds of Jordan Mailata.#EaglesCamp | #FlyEaglesFly pic.twitter.com/HNgzf4p4bl

— Philadelphia Eagles (@Eagles) July 31, 2018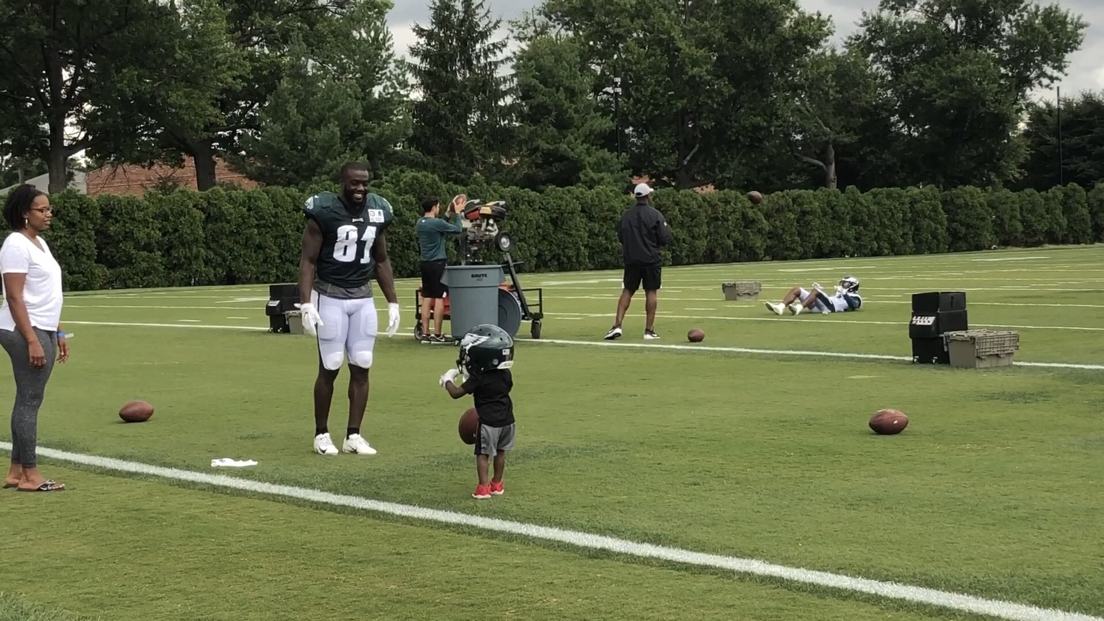 Kamar Aiken Jr. — "KJ" — tries his dad's equipment on for size following Eagles practice Tuesday.
---
The Browns continue their dog adoption event at camp, but a little nap never hurt anyone:
First day off at @Browns training camp. Time to get a little rest! 💤#HardKnocksNow pic.twitter.com/5KvK1e50Ch

— NFL Films (@NFLFilms) July 31, 2018
---
It may be the preseason, but Shaquill Griffin's hair-flip game is in peak, midseason form:
Another day, another grind.

🔜 #SeahawksCamp Day 5️⃣ pic.twitter.com/SMmmfPAWd5

— Seattle Seahawks (@Seahawks) July 31, 2018
And an injury update on Doug Baldwin:
Seahawks coach Pete Carroll said the issue that has kept wide receiver Doug Baldwin out for the past three days is a sore knee and that the team will give Baldwin "a couple weeks" before having him resume practice. Said Carroll: "We're gonna give him a couple weeks here before we bring him back out to make sure that we've ramped him back up properly. He came into camp a little bit off and we just want to make sure that we take care of him. We know exactly what's going on. He's doing some special treatments to make sure that we're taking care of him, and we want to bring him back into shape so we can really get him ready for the long haul."
---

Still weird seeing Richard Sherman in a 49ers uniform, but…
INT ALERT! @RSherman_25 with the pick #49ersCamp pic.twitter.com/hfYRAbFy2z

— San Francisco 49ers (@49ers) July 31, 2018
---

.@realbuckallen with the hard-hitting question for @RGIII about his socks 😂 pic.twitter.com/7T1tvXJvyt

— Baltimore Ravens (@Ravens) July 31, 2018
---
Bucs going young this year. Real young.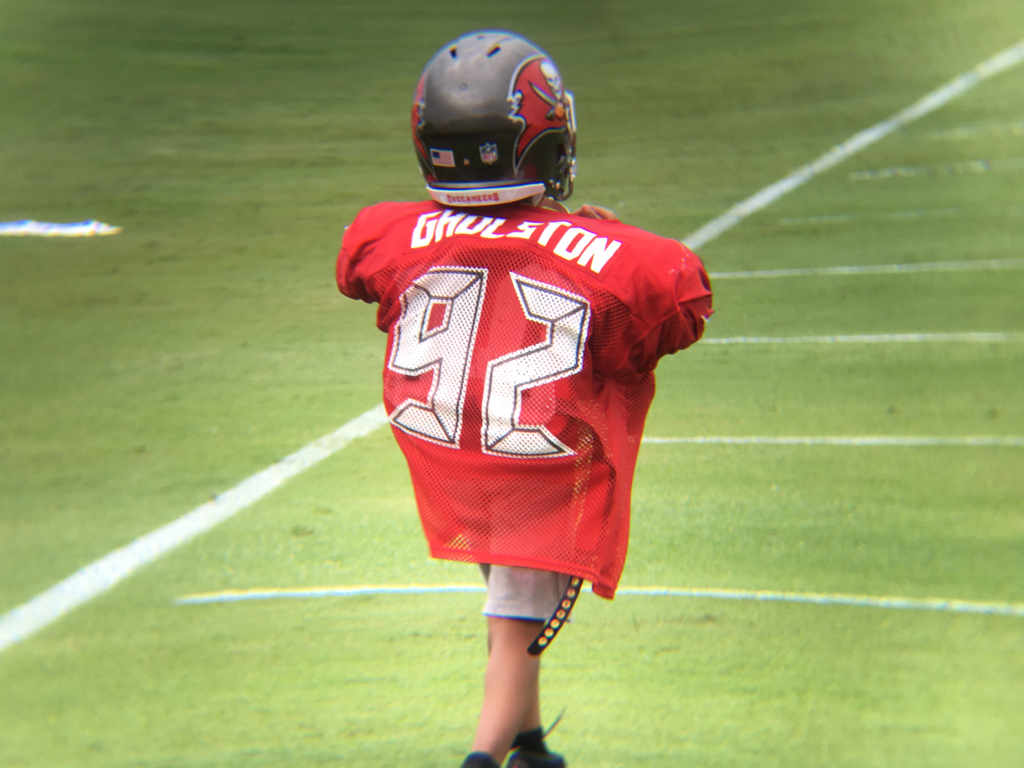 Bucs defensive end William Gholston's son puts on his daddy's pads and helmet while Gholston gets some extra work in after practice.
Mini @Geraldini93 helping @Buccaneers @MikeEvans13_ get ready for the year pic.twitter.com/ZJB6V9laFU

— Casey Phillips (@caseyreporting) July 31, 2018
And some good news on first-round pick Vita Vea: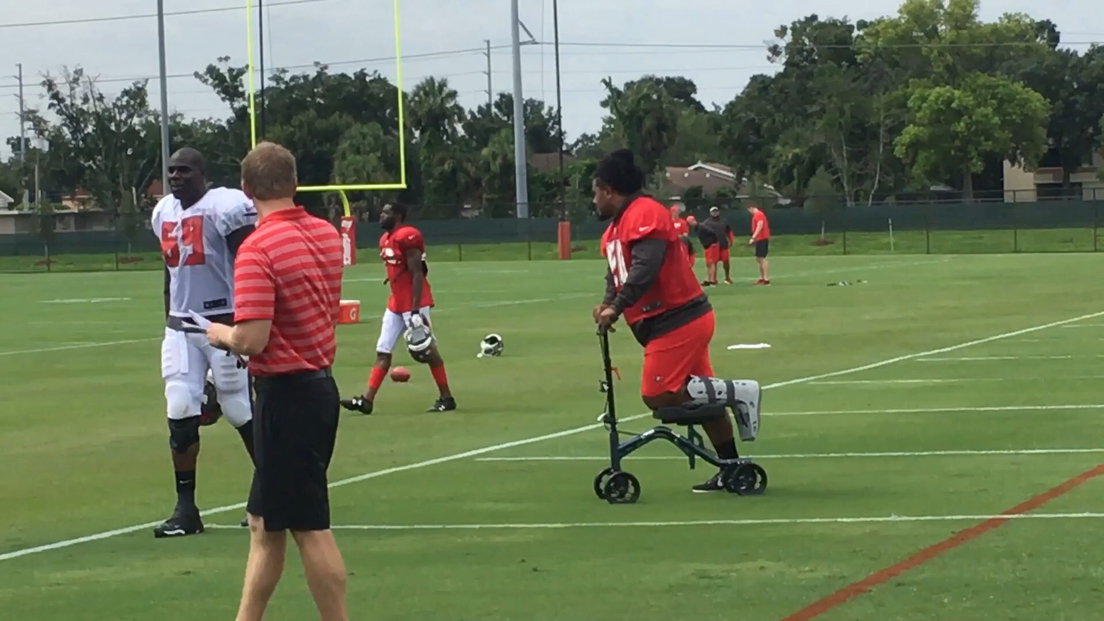 Here's some video of Vita Vea after Tuesday's practice. Halfway through, you'll see him putting some weight on that injured calf.
---

The latest on Andrew Luck from Colts camp:
Andrew Luck returned to team's training camp facility early on their day off Monday so that he could sit down with the some of the coaching staff to go over every throw that he's made since the start of camp July 26. "The whole key is keep getting better, keep getting progression," coach Frank Reich said. "I really appreciate that he's so determined. We broke down every throw that he's made since hes's been back here and looked at about 40 or 50 of those. How can we get better? That's just what he wants to do. That's the way you need to spend your day off." Luck practiced for the fourth time in five training camp practices Monday, and his continued progression was noticeable with more zip on his passes. Luck's biggest blemish Tuesday was an overthrown pass in the middle of the field that was intercepted by safety Mathias Farley.
---
After missing the early part of training camp for the birth of his daughter, star cornerback Jalen Ramsey made his return to the team on Tuesday:
The Return of the 👑

2.0 @jalenramsey pic.twitter.com/L8mhexkppT

— #DUUUVAL (@Jaguars) July 31, 2018
And some traditions never die…
---
"Have a good practice, @rcobb18!"#PackersCamp #DreamDrive pic.twitter.com/z7TOtiYcL0

— Green Bay Packers (@packers) July 31, 2018
We are all #minions pic.twitter.com/050t973VrP

— Davon House (@DavonHouse) July 31, 2018
---
From Bears camp: Players and coaches are still discussing how to handle the national anthem for Thursday night's Hall of Fame game, the NFL's preseason opener. "I don't know," linebacker Sam Acho said. "I really don't know." Coach Matt Nagy said that whatever the team does, it will do it "together." It's conceivable that the NFL and NFLPA will announce a new policy before Thursday night. If not, players can presumably kneel — if they want — without discipline.
---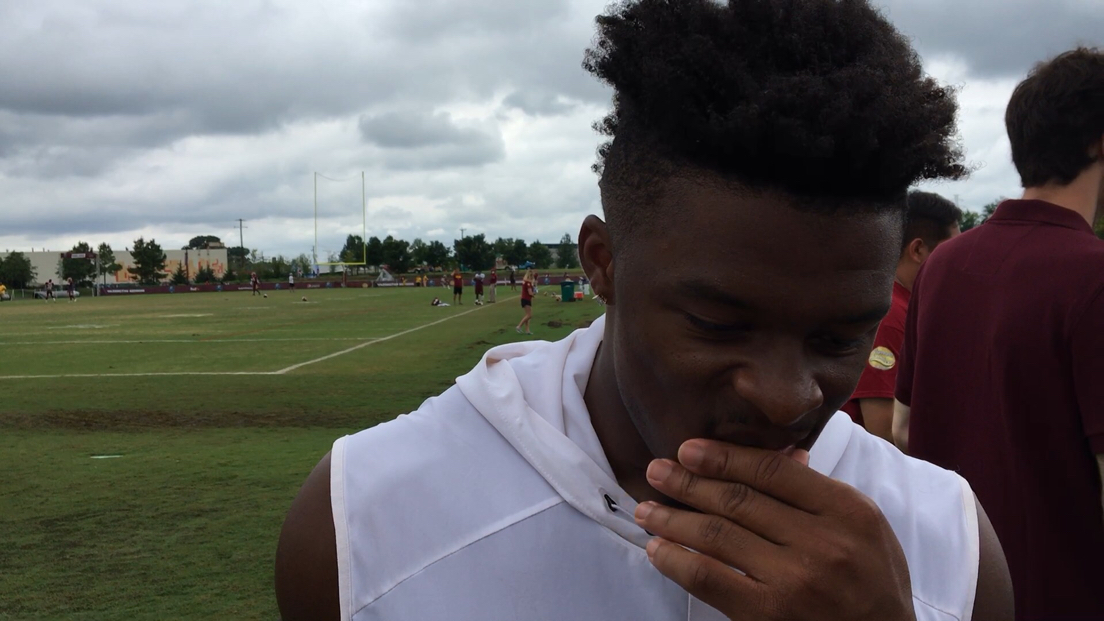 Chris Thompson said he likely won't be fully recovered from his broken fibula until November, a year after getting hurt. He's had a handful of surgeries and recoveries in his career. Nothing compares to this one.
---

Broncos coach Vance Joseph said after Tuesday's practice that defensive end Derek Wolfe suffered a "small stinger" before Wolfe had briefly left the field during the workout. Wolfe did return to practice after he was checked out by team's medical staff. Linebacker Brandon Marshall (wrist) only took part in 7-on-7 and other non contact drills.