Now 22, Rivera is taking the dunking community by storm. Like Dupuy, he frequently travels the world competing in dunk contests and tournaments. One week he'll be in Australia, the next it's China, the next it's France.
However, unlike Dupuy, Rivera's rise has come off the back of social media, where he has amassed a cult following of over 125,000 followers on Instagram and 28,000 subscribers on his YouTube channel.
For athletes like Rivera, social media has been a game-changer. It has offered them a platform to showcase their skills to a whole new audience, as well as the ability to interact with their growing fan bases.
"Social media is everything. It's key for dunking, because that's how people find you," Rivera says. "When I first started, I treated Instagram as my personal training journal. I posted videos saying how I feel and what my goals are and it allowed me to track my progress. People really relate to that stuff because they feel like they know you personally.
"Dunking is a community. There's a lot of people out there trying to dunk, whether you're going between the legs or just barely getting it up there. To be able to share your passion with other people is everything. Without social media I would definitely still be dunking, whether I would be making a living off it is a different story."
Just like Dupuy, Rivera seems to have springs hidden in the soles of his sneakers. One minute he's casually dribbling a basketball between his legs at half court, sharing a laugh with those around him, the next he's hanging upside down from the rim. How on earth did he get up there?
It certainly doesn't take a professional dunking judge to spot his talent and it's no surprise he won the famed Quai 54 contest in Paris last year, a feat which led to many labelling him the new undisputed dunk king of the world.
"If I go too long without dunking my mood starts getting, um, bad," he jokes as his hands grip a ball and his eyes dart towards the nearest basketball hoop. In the blink of an eye, he's gone.
---
Kilganon sees himself as an artist. A sculpter, if you will. It's his passion for creativity and self expression which gets him out of bed every morning and fuels his day.
But instead of painting a canvas or writing music, Kilganon's preferred art form just happens to be dunking basketballs.
"The reason I love it so much is because I can get really creative with it," he tells me, as Dupuy and Rivera begin to have their own mini dunk contest in front of us. "There's so much that hasn't been done and to me it feels like every time I do a new dunk it's like I've discovered something new, something that nobody else has done before.
"I've already discovered 130-something new dunks and to me, that's the coolest feeling ever. I absolutely love it."
Named after NBA legend Michael Jordan, Kilganon grew up in a basketball-mad household in Sudbury, a town 150 miles north of Toronto, Canada. Before he could even crawl, his parents had surrounded him with dozens of rubber balls and a plastic Fisher-Price hoop.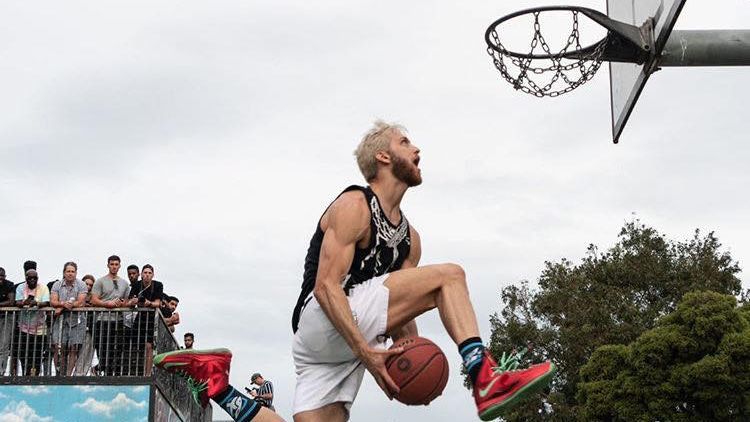 By the time he was a teenager, Kilganon was playing every sport imaginable. From basketball to volleyball, baseball to track and field events; you name it, he competed in it.
"I was dunking every day on eight or nine foot hoops and when I finished high school I just went all in on it. I quit every other sport and started from there," he says. "I eventually got to a point where I felt like I could be a professional dunker. I felt like I was better than some of them out there."
Before he could legally take a sip of alcohol in the United States, Kilganon had recorded a vertical leap of 50 inches. For context, LaVine is the only current NBA player with a vertical leap higher than 44 inches.
Watching the height and hang-time Kilganon gets simply defies gravity. It defies belief. After stretching just about every muscle in his body, a process which takes almost half an hour, he picks up a basketball and prepares to go to work.
It's not long before he's flying through the air towards the hoop and passer-byers are rubbernecking their way down the footpath of Malvern Road.
It's incredible how effortless he makes it look. With a full run-up, and the biggest leap of my life, I manage to just graze the underside of the rim. Just. Meanwhile, off a couple of casual steps, Kilganon jams and swings on the rim for good measure. Believe it or not, we're the same height – 6'1″.
Dupuy may have gotten his dunking break through an invite to the French All-Star game and Rivera mainly through social media, but Kilganon was forced to take a slightly different path to the top.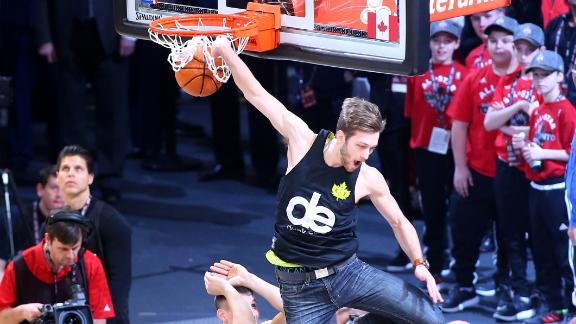 "I had been sending my mixtape out everywhere and finally one person saw it and decided to fly me out to Los Angeles," he recalls. "It was supposed to be to film for two weeks, but two weeks turned into six months and from there, that's where I started dunking against professionals."
At age 23, Kilganon was invited to attend the 2016 NBA All-Star game where he pulled off an incredible scorpion dunk to leave the Air Canada Centre, now Scotiabank Arena, speechless. To this day it's one of the most remarkable televised dunks ever seen.
The rest, as they say, is history. Just like Dupuy and Rivera, Kilganon can now call himself a professional dunker.
---
Stuffing a ball into a hoop almost feels like a fantasy profession. For basketball fanatics, it just seems too good to be true.
"I feel like I don't really have a job, because I'd be doing this regardless," Kilganon says, almost pinching himself. "Can you even call it a job?"
He's not wrong. Guys like Kilganon, Dupuy and Rivera are obsessed with dunking, but fortunately for them it's something which is paying the bills. After all, Dupuy believes "if you're going to call yourself a professional, you have to be able to feed your family and put a roof over their heads."
So how exactly do they get paid?
"Somebody from a dunk contest will contact you and they will offer you an appearance fee to compete. If you win there's more money on top of that," Rivera explains. "Depending on what contest it is, if you win you could get anything from US$500 to US$5,000. But they will fly us out, put us up in a hotel and give us a per diem. Everything is paid for, we don't spend a dime.